Free Range Chicken Liver
Regular price
Sale price
$13.00 USD
Unit price
per
Sale
Sold out
Green Paw treats are crafted with care, using only Free-Range chicken sourced exclusively from a local, small, family-run farm right here in Greenwood, Nova Scotia
Chicken Liver is a low-calorie superfood packed with Vitamins and Minerals. The benefits of chicken liver for pets include:
Maintaining weight
Improving blood, organ, bone, and joint health
Improving eye, coat, bone, and joint health
Providing amino acids and high-quality proteins
Being a good source of zinc, copper, iron, and Vitamin B-complex
Improving coat and skin condition
Supporting eye health
We're thrilled to offer you a wholesome treat option that your furry friends will absolutely love. 🥩🍃 

What makes Green Paw truly special? Each package is made from a single ingredient, ensuring pure goodness with no preservatives, fillers, growth hormones, or antibiotics. It's 100% natural protein that your pets will love.

During the dehydration process, 70% of the product is reduced, resulting in highly concentrated pieces. This means smaller portions go a long way as there are no fillers! ✨

Treat your furry companions to the finest with Green Paw Pet Treats, Your pets will thank you with wagging tails and endless affection!🐾 
" Green Paws are Happy Paws "
The drawback of chicken liver is high amounts of vitamin A, which can cause the condition of hypervitaminosis A or vitamin A poisoning.
In this condition, an over-accumulation of vitamin A can lead to a variety of serious health issues affecting their bones and mobility.
Some symptoms of vitamin A toxicosis include the following:
Immobility of joints, especially in the neck
Excessive bone development
Weakness
Weight loss.
 Give your pet an appropriate amount of treats appropriate to the size and digestive status of your pet.
100% Single Ingredient

🥩🍃 Green Paw treats are crafted with care, sourced exclusively from local, small, family-run farms right here in the Maritimes.🚜
Care Instructions

Minimize exposure to direct sunlight and keep in a cool and dry location with the bag sealed
Share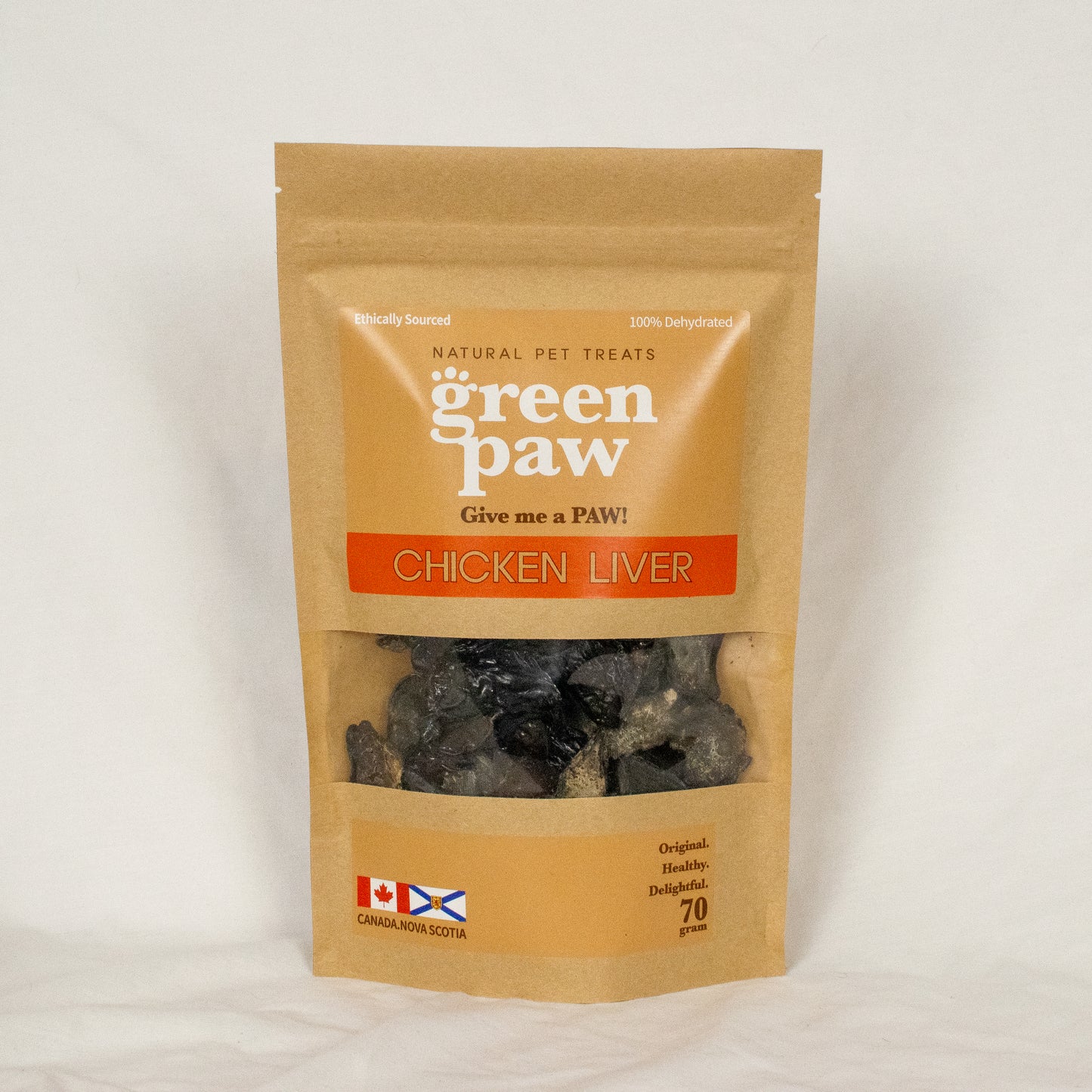 Free Shipping

Free Shipping on any combination of 4 bags or more anywhere in CANADA.